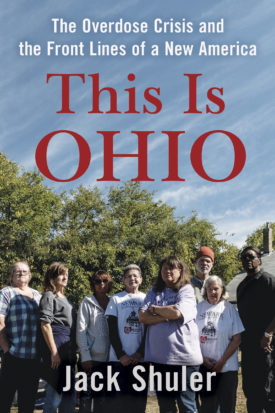 (Purchase from Bookshop.org)
Winner of the 2019-2020 Malott Prize for Recording Community Activism
Winner of the 2020 Richard Frisbie Award for Adult Nonfiction from the Society of Midland Authors
"With the opioid epidemic raging rampant in Ohio, Shuler gets into the nitty-gritty of the crisis . . . An insightful look at how issues in Ohio affect the rest of the country." —
Laura Hanrahan, One of ​Cosmopolitan'​s Best Nonfiction Books of the Year

Learn more about This is Ohio:
Filter Magazine, Columbus Alive, 100 Days in Appalachia, West Virginia Public Broadcasting, Cosmopolitan Magazine, WCPN, Rutgers: Criminal Law and Criminal Justice Books, It's All Journalism, Cincinnati Magazine
Every overdose is a policy failure. Such is the guiding element of journalist Jack Shuler's new book, one that explores the current addiction crisis as a human rights problem fostered by poverty and inadequate health care.
Tainted drug supplies, inadequate civic responses, and prevailing negative opinions about people who use drugs, the poor, and those struggling with mental health issues lead to thousands of preventable deaths each year while politicians are slow to adopt effective policies. Putting themselves at great personal risk (and often breaking the law to do so), the brave men and women profiled in​ This is Ohio​—a coalition of people who use drugs, mothers, and allies—are mounting a grassroots effort to combat ineffective and often incorrect ideas about addiction and instead focus on saving lives through common sense harm reduction policies.

Opioids are the current face of addiction, but as Shuler shows, the crisis in our midst is one that has long been fostered by income inequality, the loss of manufacturing jobs across the Rust Belt, and lack of access to health care. What is playing out in Ohio today isn't only about opioids, but rather a decades-long economic and sociological shift in small towns all across the United States. It's also about a larger culture of stigma at the heart of how we talk about addiction. What happens in Ohio will have ramifications felt across the nation and for decades to come.

PRAISE FOR ​THIS IS OHIO
"This impressively researched and deeply felt account does a devastating job of personalizing the failures of U.S. drug policy."
—Publishers Weekly

"Another alarming report from the front lines of the opioid epidemic . . . This book should be shelved next to Beth Macy's ​Dopesick​ and Sam Quinones' ​Dreamland​ . . . Full of grim yet important statistics and vignettes as well as a few sensible solutions."
—Kirkus Reviews

"[A] profoundly humanizing investigation . . . The commitment, tenacity, and empathy of the users, activists, and advocates Shuler meets is a stark corrective to the disdain and dehumanization typical of policy and practice in this area. The title forcefully claims this story for Ohio, a statistical center, but addiction reaches all places, and this book is strongly recommended for readers anywhere who are interested in systemic change and the power of the grassroots."
—Library Journal

"Shuler gives us hope and inspiration by taking us into the lives of those struggling to build life-affirming non-carceral solutions to addiction from the ground up out of the ashes of economic dislocation and community disintegration.​"
—Alex S. Vitale, author of T​he End of Policing

"Jack Shuler takes us to the heart of America's overdose crisis with clear-eyed storytelling and empathic warmth for the ordinary Americans fighting against the economic and cultural abandonment that have left too many behind, or locked up. A wrenching but life-affirming book."
—Piper Kerman, author of ​Orange Is the New Black